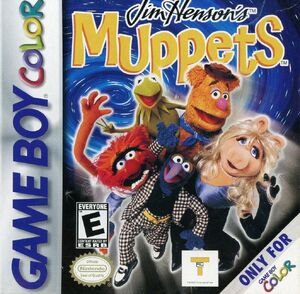 Jim Henson's Muppets is a 2000 GameBoy Color game in which Kermit the Frog and Animal have to rescue their friends, who are transferred back in time by Dr. Bunsen Honeydew's time machine.
In each time era, either Kermit or Animal has to collect three special items, after which they have to rescue one of the captured Muppets from a 'boss' in the fourth level. Each level is a maze; players have to collect keys, energy food and other bonuses in order to get through.
Kermit's fighting techniques include throwing paper airplanes and a high leap; Animal's fighting techniques consist of throwing drumsticks and "stomping".
Levels
Featured Characters
Playable characters: Kermit the Frog and Animal.
Characters to Rescue: Gonzo, Miss Piggy, Fozzie Bear, Rowlf the Dog, Sam the Eagle, and the Swedish Chef
Enemies: Spa'am and the Wild Boars (Maya culture level).
Characters used as labels for saved games: Kermit, Miss Piggy, Fozzie Bear, The Great Gonzo, Rowlf the Dog, Sam the Eagle, The Swedish Chef, Animal, Dr. Bunsen Honeydew, Beaker, Statler, Waldorf, Robin the Frog, Sweetums, Rizzo the Rat, Dr. Teeth, Zoot, Floyd Pepper, Janice, Scooter.
Voices
Richard Hunt as Beaker (in 'Options' screen)
Frank Oz as Fozzie Bear (during first screen "Hey, wocka wocka!" and after a 'game over': "Aw, that's showbiz!") and Animal (during pause mode: "Uh oh!")
Steve Whitmire as Kermit the Frog (when releasing pause mode: "Hi ho and welcome back!") and Rizzo the Rat (after a completed level: "That was great! A lot of fun! When do I get my check?")