This article is about an upcoming project, product, or production.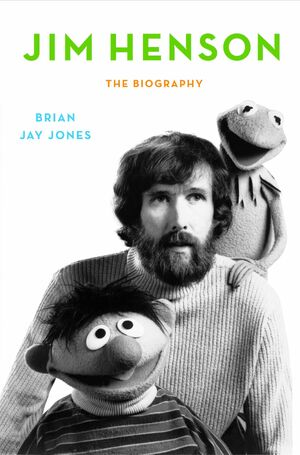 Written by
Brian Jay Jones
Published
September 24, 2013
Publisher
Random House / Ballantine Books
ISBN
0345526112 (hardcover book)
0345526139 (e-book)
0804128642 (audiobook CD)
0804128650 (audiobook download)
Jim Henson: The Biography is an upcoming biography of Jim Henson written by Brian Jay Jones. The 672-page hardcover book will be released on September 24, 2013 (Henson's 77th birthday); a digital e-book edition will also be released the same day. The book is being published by Random House / Ballantine Books.
An unabridged audiobook will also be released on September 24th by Random House Audio.[2]
Development
It was first reported in July 2010 that Brian Jay Jones had sold a biography of Jim Henson to Ballantine Books. Jones worked on the project with the blessing of the Henson family and the Jim Henson Legacy. From 2010 to 2012, he spent time combing through the Henson Archives with the assistance of Karen Falk.[3] Jones also spent time interviewing many of Henson's colleagues for the book — including Jane Henson, Steve Whitmire, Dave Goelz, and Jerry Nelson, among others.[4][5][6] Jones delivered the first draft of the manuscript to his editor in June 2012; the draft was 700-pages long.[7] After being typeset and laid out, the final book will be 592-pages[8].
Official Description
"

He was a gentle dreamer whose genial bearded visage was recognized around the world, but most people got to know him only through the iconic characters he created: Kermit the Frog, Bert and Ernie, Miss Piggy, Big Bird. The Muppets made Jim Henson a household name, but they were just part of his remarkable story.

This extraordinary biography—written with the generous cooperation of the Henson family—covers the full arc of Henson's all-too-brief life: from his childhood in Leland, Mississippi; through the years of burgeoning fame in Washington D.C., New York, and London; to the decade of international celebrity that preceded his untimely death at age fifty-three. Drawing on hundreds of hours of new interviews with Henson's family, friends, and closest collaborators, as well as unprecedented access to private family and company archives (including never-before-seen interviews, business documents, and Henson's private letters), Brian Jay Jones explores the creation of the Muppets, Henson'' contributions to Sesame Street and Saturday Night Live, and his nearly ten-year campaign to bring The Muppet Show to television. Jones provides the imaginative context for Henson's non-Muppet projects, including the richly imagined worlds of The Dark Crystal and Labyrinth—as well as fascinating misfires like Henson's dream of opening an inflatable psychedelic nightclub or staging an elaborate all-puppet Broadway show.

An uncommonly intimate portrait, Jim Henson captures all the facets of this American original: the master craftsman who revolutionized the presentation of puppets on television, the savvy businessman whose dealmaking prowess won him a reputation as "the new Walt Disney," and the creative team leader whose collaborative ethos earned him the undying loyalty of everyone who worked for him. Here also is insight into Henson's intensely private personal life: his Christian Science upbringing; his love of fast cars, high-stakes gambling, and expensive art; and his weakness for women. Though an optimist by nature, Henson was haunted by the notion that he would not have time to do all the things he wanted to do in life—a fear that his heartbreaking final hours would prove all too well founded.

An up-close look at the charmed life of a legend, Jim Henson gives the full measure to a man whose joyful genius transcended age, language, geography, and culture—and continues to beguile audiences worldwide."
Reviews
"

I worked with Jim for over thirty years. He was one of my closest friends. And yet I found out things about him in Jim Henson that were new to me. Brian Jay Jones has captured the layers of Jim's genius and humanity as well as the flaws that made Jim, like all of us, so delightfully imperfect. Jim needed this book to be written. I thank Brian for giving Jim life again. This book has captured the spirit of Jim Henson.

"
---
"

I'm a rabid Jim Henson fan—his brilliant ideas spawned shows that entertained and educated millions, myself included. Jim Henson vibrantly delves into the magnificent man and his Muppet methods. It's an absolute must read!

"
---
"

Every Muppet fan has wondered who was behind the wide-mouthed, bug-eyed, furry creatures. Before now all we had was a credit line: Jim Henson. Now, with Brian Jay Jones's riveting Jim Henson, we have a nuanced portrait of the puppeteer—part genius inspired by his Mississippi Delta roots and his Christian Science faith, part flawed human with tastes too rich in everything from his art and cars to his women—that brings new understanding of and empathy for an icon of American popular culture.

"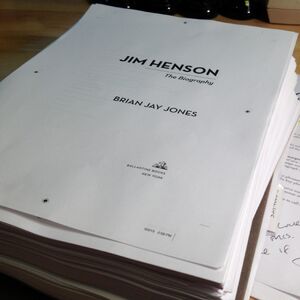 Sources
See also
External links
Community content is available under
CC-BY-SA
unless otherwise noted.