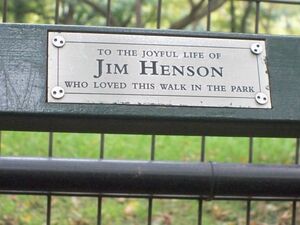 Literary Walk is the southern end of a section in New York City's Central Park called the Mall. Extending between 66th and 72nd Streets, the Mall is an area of the park specifically set aside by its designers as a place where modern sculptures would not interfere with the park's natural aesthetic. Here stands a statuary of several literary and historic figures such as William Shakespeare, Christopher Columbus and Ludwig van Beethoven.
Along Literary Walk, which is lined with rows of American elm trees, are a series of park benches installed in 1991 during the Mall's restoration. One such bench is dedicated to Jim Henson, with a plaque that reads:
"

TO THE JOYFUL LIFE OF
JIM HENSON
WHO LOVED THIS WALK IN THE PARK

"
Henson's bench can be found by walking south from the Naumburg Bandshell down Literary Walk. It is on the East side of the street, about halfway between the end of the walk and the bandshell. [1]
See also
External links