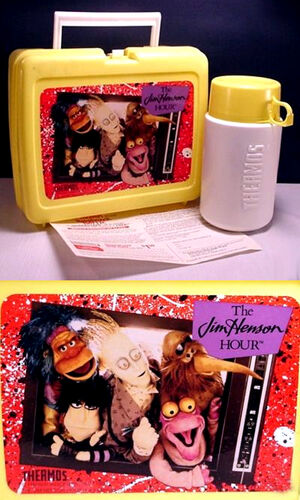 In 1989, Thermos produced a plastic lunchbox to tie in with Henson's new series, The Jim Henson Hour. The decal on the front of the lunchbox has a promotional photo of some of the new Henson Hour characters -- Ubu, Zondra, Digit, Leon and Lindbergh.
This is a Muppet merchandise oddity -- the only item of Jim Henson Hour merchandise released in 1989. The image uses the new, unknown characters, rather than familiar faces like Kermit the Frog or Gonzo, who also appeared on the show. Also, the show was on the air from April through July 1989; by the time the new school year started, the show was already off the air.
See also
Community content is available under
CC-BY-SA
unless otherwise noted.