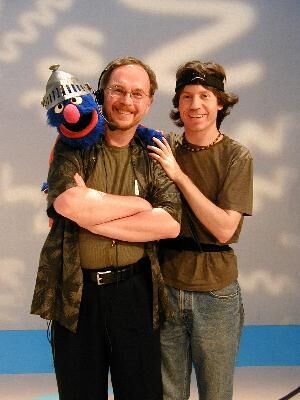 Jim Martin is a puppeteer and director who performed with the Muppets beginning in the 1980s. Credited on Sesame Street from seasons 21 through 44, he most notably played Preston Rabbit but often performed in a variety of one-shot and right-handing roles (notably as the primary hand of Oscar the Grouch for many seasons[1]). He later transitioned primarily into directing on the series, becoming the main director of the "Elmo's World" segments, as well as various specials, videos, and spin-offs. He also directed on other Muppet series, including Bear in the Big Blue House and The Wubbulous World of Dr. Seuss. To date, with the other regular Sesame Street directors, Martin has shared in five Daytime Emmy Awards for Outstanding Direction in a Children's Series (for 2002, 2004, 2005, 2007, and 2009).
He has directed for the non-Muppet series Between the Lions, The Puzzle Place (where he was a regular as Ben Olafson) and Johnny and the Sprites. Other notable puppeteer credits include Captain Kangaroo (as a performer and builder), The Great Space Coaster (as Gary Gnu, villainous M. T. Promises, Baffle, and taking over Edison Elephant from John Lovelady), and Once Upon a Tree (Forrest).
Muppet/Henson Credits
Performing credits
Sesame Street: Betty Lou's Dad, Ex Ray (Episode 4206), Goat ("We Are All Earthlings"), The Great Blecchini[1], Grouch Toll Booth Attendant, Hansel and Gretel (assistant), Harry the Hopping Haystack, Irvine (Episode 2810), Lassie, Oscar the Grouch (assistant), Patti Paintbrush, Preston Rabbit, The Sun (in "Here is Your Life"), Surprised, Turkey Lurkey, yellow monster in "Monsters in Day Care"
The Muppets Take Manhattan: Animal, Robin the Frog, others (Wedding Finale only)[2]
The Cosby Show ("Cliff's Nightmare"): Doglion, Cauliflower
Telling the Truth: Sheep
Directing credits
Writing credits
See also
Sources
External links
Community content is available under
CC-BY-SA
unless otherwise noted.