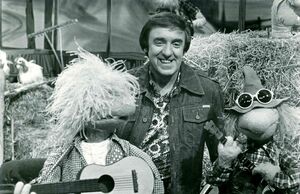 Jim Nabors (1930-2017) was an actor best known for playing Gomer Pyle on The Andy Griffith Show (from 1962 to 1964) and its spin-off, Gomer Pyle, USMC (1964 to 1969). He hosted his own TV variety show from 1969 to 1971. Nabors was also a singer with operatic training and was known for the song "Back Home Again in Indiana" that was played during the pre-race ceremony of the Indianapolis 500 from 1971 to 2014..
In 1970, Nabors recorded two inserts for Sesame Street. In one segment, he sang "The Alphabet Song". (First: Episode 0176) He also sang from 1 to 20, demonstrating soft and loud. (First: Episode 0150)
In 1976, he guest-starred on The Muppet Show episode 106.
Nabors survived a liver transplant in 1994 and spent his retirement days living in Hawaii.
External links
Community content is available under
CC-BY-SA
unless otherwise noted.