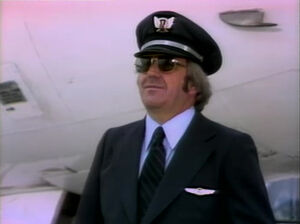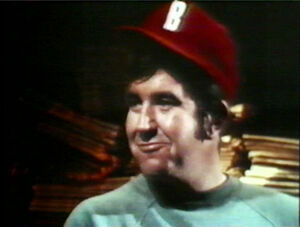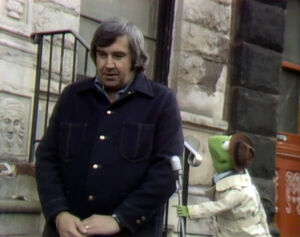 Jim Thurman (1935-2007), sometimes credited as James Thurman, was a writer and voice actor who served a lengthy stint on Sesame Street, working in both capacities, beginning with the show's debut in 1969.
Born in Dallas, but raised in Vicksburg, Michigan, Thurman began his career as a copywriter at various advertising agencies in New York. With his writing partner Gene Moss, he formed his own ad agency, Creative Advertising Stuff. Moss and Thurman scripted all 125 installments of the 1965 cartoon series Roger Ramjet as well as the puppet comedy series Shrimpenstein, where Thurman voiced the title character. He also wrote TV gags for the likes of Bob Hope, Bob Newhart, Carol Burnett, and Dean Martin.
On Sesame Street, Thurman scripted both street/Muppet scenes and many animated sketches; for the latter, he was heard as Teeny Little Super Guy, Christopher Clumsy, various Cliff Roberts and Paul Fierlinger characters, and Jake the Snake. He also worked on several related Sesame Street specials, scripted three Sesame Street Live shows, and served a brief stint on The Muppet Show during the fourth season.
Thurman subsequently worked on most of CTW's other series, as a staff writer and cartoon voiceover on The Electric Company and 3-2-1 Contact, and as head writer/producer for Square One TV; on the latter series, he provided the voice of Mr. Glitch and scripted the "Mathnet" segments, as well as "Dirk Niblick of the Math Brigade," and the later Math Talk package. Thurman also wrote and voiced several animated sexual education specials for Buzzco Associates, Inc.. Though no longer a staff writer for Sesame Street, Thurman was still heard occasionally on the series into the new millennium. In 2006, he wrote wrapararound material and voiced Bob for the Old School Volume 1 DVD. Joan Ganz Cooney paid tribute to Thurman:
"Jim was a stalwart spirit within the Workshop. He was important not only for what he produced but for the positive spirit he had as he did it. He was an utter joy to work with, and was truly funny.[1]"
Writing Credits
Sources
↑ Obituary. Variety. April 20, 2007
Community content is available under
CC-BY-SA
unless otherwise noted.