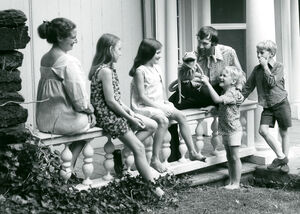 Jim and Jane Henson: Creative Work, Creative Play was a 2017 exhibit at the Greenwich Historical Society in Cos Cob, CT. The exhibit focused on the Henson family's time in the neighboring town of Greenwich from 1964 to 1971. There was also a focus on their creative work in that period, including their support in founding The Mead School, a private school in Stamford that emphasizes the arts, in 1969.
The exhibit was curated by Karen Falk and Karen Frederick, the Greenwich Historical Society's Curator of Collections, as well as contributing curator Cheryl Henson. Support was provided by the Henson family, The Mead School, The Jim Henson Company, The Jim Henson Legacy, Sesame Workshop, and The Muppets Studio.
The exhibit ran from April 5 - October 8, 2017.
Exhibit Features
Several puppets, including a Kermit the Frog from 1963 and a Robin the Frog used in the making of The Frog Prince
Original drawings that inspired Sesame Street's Numerosity segments
A dollhouse built by Jim Henson based on the design of the family's Greenwich home
Jane Henson's paintings and sculptures
Materials and projects documenting Jane's support of The Mead School
Behind-the-scenes photos
Clips from Sesame Street's early years and early video experiments and collaborations
Events
May 2, 2017
Celebrating Jim Henson and the Art of Puppetry: An Evening with Cheryl Henson [1]
June 1, 2017
Roll It: A Special Screening of Jim Henson's Commercials and Experiments, hosted by Craig Shemin [2]
See also
External links