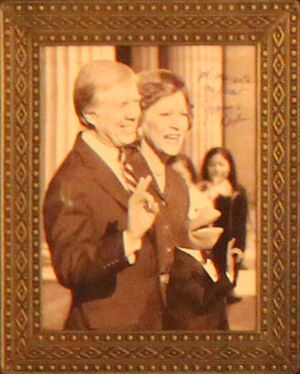 Jimmy Carter (b. 1924) was the 39th President of the United States, serving from 1977 to 1981. He was preceded by Gerald R. Ford and succeeded by Ronald Reagan.
In The Muppets, President Carter's name appears in Kermit's Rolodex. Kermit, looking for a celebrity host, attempts to call President Carter, only to learn that he has since moved.
Following the premiere of the film, the El Capitan Theatre housed an exhibit of set pieces from the movie. In a glass case showcasing Kermit's office, various photos from Kermit's past decorate the walls, including a doctored picture of Kermit with Jimmy and Rosalynn Carter.
Community content is available under
CC-BY-SA
unless otherwise noted.