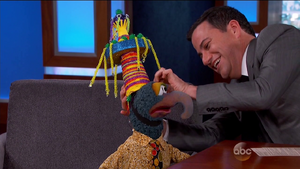 Jimmy Kimmel (b. 1967) is the host of Jimmy Kimmel Live, a late night talk show which has run on ABC since 2003.
Kimmel has had several Muppet guests on his show. On the 2012 After the Academy Awards edition of the show, Oscar the Grouch appeared, having been pawned off to Kimmel by Billy Crystal, who had accepted money for what Kimmel thought was an Academy Award trophy, a play on "Oscar". He also dressed as Big Bird for a Halloween episode in 2009.
In an insert on Dancing with the Stars, Kimmel appeared with the Count.
Kimmel appeared on Sesame Street to explain the word "sibling" in a Season 42 Word of the Day segment.
Kimmel made a brief cameo in The Muppets Take the Bowl. As Fozzie Bear desperately tries to find his way to the stage, he ends up on Kimmel's talk show set.

External links