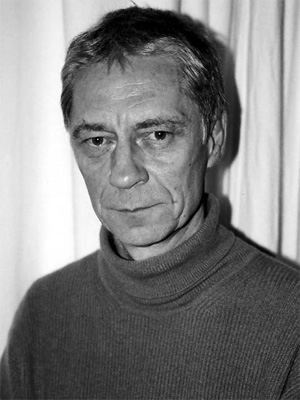 Joachim Tennstedt (b. 1950) is a German voice actor who dubbed the Skeksis Chamberlain in Der Dunkle Kristall, Glenn in Das Grösste Muppet-Weihnachtsspektakel aller Zeiten (It's a Very Merry Muppet Christmas Movie) and Link Hogthrob in the German dub of Muppets Most Wanted. As the primary German voice of Billy Crystal since 1986, he revoiced the actor for the German dub of Muppets Tonight. He also was heard in various Creature Shop-effects dubs.
In addition to Billy Crystal (who he dubbed in the City Slickers movies and When Harry Met Sally, among others), Tennstedt has been the main German voice of many movie stars, such as John Malkovich, Michael Keaton (including Batman, Batman Returns, Mr. Mom, and Birdman), Jeff Bridges (including Iron Man and True Grit), William H. Macy (including Psycho and Mystery Men), and Eric Roberts. Tennstedt also dubbed Mel Gibson (in Galipoli, Hamlet, and others), Tom Hanks (including Dragnet, Big, and Bridge of Spies), John Hurt (The Elephant Man), Chris Cooper (The Patriot), Rick Moranis (Spaceballs), Ted Danson (Creepshow), and John Lithgow (The World According to Garp).
The brightest star dubbed by Tennstedt, however, was C-3PO in the original Star Wars trilogy, later reprising the part for The Lego Movie and The Force Awakens. Other off-beat assignments included Don the talking horse (voiced by John Candy) in Hot to Trot, Abe Sapien in the Hellboy franchise, Robert the hedgehog in Meet the Feebles, and Papi in the Beverly Hills Chihuahua movies.
Cartoon roles include Speedy Gonzales in the Looney Tunes, Tom in Tom and Jerry: The Movie, Snitter in The Plague Dogs, Prince Lir in The Last Unicorn, Badger in The Fantastic Mr. Fox, Gladstone Gander on DuckTales, and Jolly Jumper on Lucky Luke. Roles in audio dramas include Sherlock Holmes, Dr. Jekyll and Mr. Hyde, and Richard in The Phantom of the Opera.
External links
Community content is available under
CC-BY-SA
unless otherwise noted.