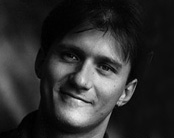 Joakim Jennefors (b. 1966), sometimes credited as Jocke Jennefors, is a Swedish voice actor, singer, and composer. He dubbed Bear in Nalle har ett Stort Blått Hus, the Swedish dub of Bear in the Big Blue House and various characters in Leksakernas Hemliga Liv (The Secret Life of Toys). In Creature Shop films, he dubbed Rodney in Dr. Dolittle, Professor Brody in Cats & Dogs, Mick Jagged in The Flintstones in Viva Rock Vegas.
He often plays villainous characters, which gives him the option to do evil laughs and a twisted voice. A variation of his normal voice is utilized for Nalle, just a bit lighter. In recent years, he has started to do voice directing as well. He directed the voice actors for the Swedish dub for Herbie: Fully Loaded and was the musical director for the Bambi II dub.
Some of his many voice credits include Squidward in SpongeBob SquarePants, Quasimodo in Disney's The Hunchback of Notre Dame, Deux frères and many others.
External links