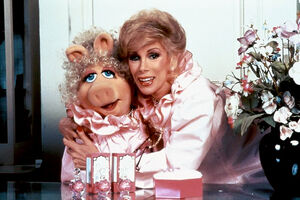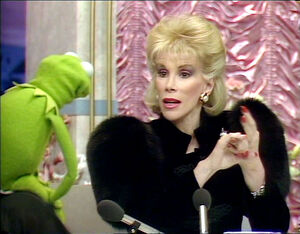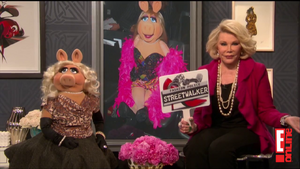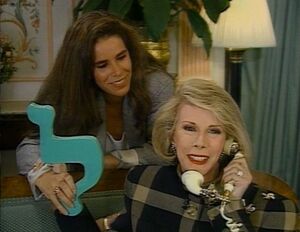 Joan Rivers (1933 - 2014) was an actress, comedian, and television personality. She made a cameo appearance in The Muppets Take Manhattan as Eileen, Miss Piggy's department store co-worker. Seeing that Piggy is upset, Rivers uses her catchphrase, "Can we talk?"
In 1986, Jim Henson and Kermit the Frog made an appearance on Rivers' BBC late-night talk show Can We Talk?
Rivers later guest starred on Shalom Sesame, as herself in "Aleph-Bet Telethon" and as the voice of a clay animated microphone in "Chanukah." She also appeared on Sesame Street in season 17.[1]
Rivers was well known for her celebrity appearances on Hollywood Squares and was also the narrator of "The Adventures of Letterman" from The Electric Company.
Following a 2011 Change.org petition to have Bert and Ernie marry, Rivers went to Twitter to address the rumors: "There is NO WAY that Bert and Ernie are gay. They haven't changed their outfits in 25 years." (In actuality, the last visible change to the wardrobe for either was Bert in 1982, for season 14 of Sesame Street, as opposed to the implied season 18, see Bert Through the Years for details.)
In 2012, Miss Piggy reconnected with Rivers, when she appeared on the comedienne's E! show Fashion Police to discuss the pig's style.
In February 2014, Miss Piggy announced she was launching her own lifestyle brand and planning to take the title "Queen of Shopping" away from Joan Rivers, who had a Classics Collection jewelry line on QVC. Piggy and Rivers had a public fight at the QVC Red Carpet party followed by a public celebrity feud on social media and various news outlets (including a piece on E!). The feud culminated in Piggy appearing on QVC with Rivers.
When Rivers passed away, Miss Piggy gave the following statement, "Moi is deeply saddened by the passing of my friend and fellow legend, Joan Rivers. From our first appearance together as battling make-up counter girls in The Muppets Take Manhattan to our recent appearances together on QVC (Joan called it 'The Thrilla in Manolos'), we were always two of a kind. I will miss her. Can we talk? You bet we can, Joan! Forever and ever!"[2]
Sources
External links