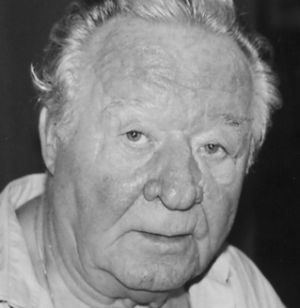 Jochen Schröder (b. 1927) is a German voice actor who dubbed Waldorf in Das Grösste Muppet-Weihnachtsspektakel aller Zeiten (It's a Very Merry Muppet Christmas Movie). He also dubbed General Limtoc in Gulliver's Travels.
In dubbing, Schröder has frequently been the German voice of James Cromwell (including Star Trek projects) and Robert Loggia. He dubbed John Wood in Orlando and Chocolat, Sid Caesar in Grease and Grease 2, Dick Van Dyke in Night at the Museum, Bill Cobbs in Suspect, Judd Hirsch in A Beautiful Mind, Harold Gould in 1997's The Love Bug, Martin Landau in Hollywood Cops, and Nesbitt Blaisdell in The Mothman Prophecies. For TV, he dubbed James Gregory on Barney Miller and Waylon Jennings on The Dukes of Hazzard.
In cartoons, Schröder narrated the German animated features Maria d'Oro und Bello Blue (1973) and The Snurks (2004) and dubbed Papa Mousekowitz in An American Tail, Jasper in 101 Dalmatians, Boris in Lady and the Tramp, Julius Caesar in one of the Asterix films, Commandant Lassard on the animated Police Academy series, and Professor Simon on the anime Captain Future.
Schröder was part of the cabaret troupe Die Stachelschweine from 1958 until 1986 and began appearing in film and television in 1955. He played a reporter in the Edgar Wallace "krimi" film The Hunchback of Soho (1966), was in the 1971 comedy Unser Willi ist der Beste (part of a series starring Heinz Erhardt as Willi), and appeared in episodes of Das Kriminalmuseum and Die Pfefferkörner.
External links