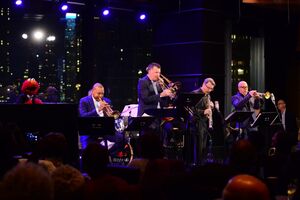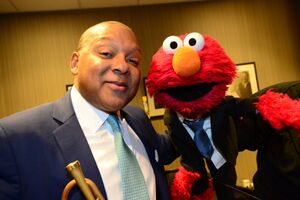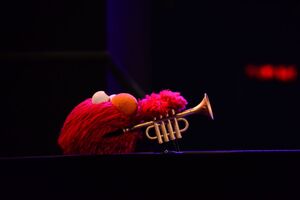 Joe Fiedler's Open Sesame is a Sesame Street concert mounted by Joe Fiedler held at Dizzy's Club Coca-Cola in New York City on February 4, 2019. Two performances of the show were held, with special guests Elmo and Wynton Marsalis appearing only during the earlier, 7:30pm show.
Event description
"

If there's one thing sure to put a smile on anyone's face, it's a visit from our friendly Sesame Street neighbors. A huge part of the show's endless delight is its smart and playful music, and the Sesame band is loaded with professional jazz musicians—including JLCO trumpeter Kenny Rampton and tonight's bandleader and music director, Joe Fiedler.

Not only is Joe Fiedler a brilliant jazz trombonist, but he's also the main man behind the swinging sounds of Sesame. He'll be leading his outrageously fun band through jazz versions of classics like "Rubber Duckie," "Pinball Number Count," "The People in Your Neighborhood," and "Magic Pig Calypso."

All the jazz greats have visited Sesame Street. Our own Wynton Marsalis even dropped by to jam with Hoots the Owl and the Duck Ellington Orchestra! Tonight, Marsalis returns the hospitality and welcomes Sesame Street into our home, the House of Swing.

To make the evening even more special, the 7:30pm set will feature a couple of songs with special guest appearances by Wynton Marsalis and Elmo—everyone's favorite furry red monster. We have a feeling they might even play a song or two together! So make sure to claim your seat, and then come on down to the House of Swing for an evening of camaraderie and good-time tunes.[1]"
See also
Sources
Community content is available under
CC-BY-SA
unless otherwise noted.