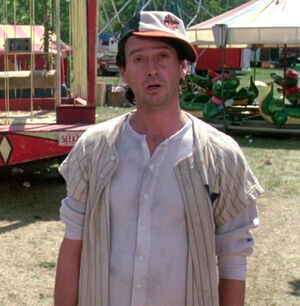 Joe Flaherty (b. 1941) is a character actor best known for his work on the sketch comedy series SCTV, notably playing horror host Count Floyd, station owner Guy Caballero (who uses a wheelchair for respect), and talk show host Sammy Maudlin.
In 1985, he starred in Follow That Bird as Sid Sleaze, paired with fellow SCTV cast member Dave Thomas. Flaherty was later heard in two episodes of Dinosaurs as the politically vacillating Chief Elder.
Flaherty's other TV credits include playing irascible dad Harold Weir on the sitcom Freaks and Geeks and guest spots on Ellen, Frasier, Married... with Children, and A Nero Wolfe Mystery. Films include Back to the Future Part II (as the Western Union man), Happy Gilmore (as the jeering fan), One Crazy Summer, Innerspace, and Stuart Saves His Family. Voice credits, using Flaherty's distinctive raspy tones, include the animated films Heavy Metal and Home on the Range and the series Family Guy, Little Dracula, and The Legend of Tarzan.
His brother, Paul Flaherty, was a staff writer for Muppets Tonight.
External links