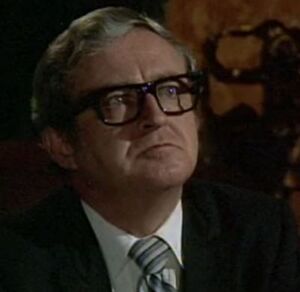 Joe Flynn (1924-1974) was a comedic character actor best known for his work on the sitcom McHale's Navy (as Captain Binghamton) and in Disney movies. On Sesame Street, Flynn voiced an irritable duck in an animated segment about the difference between tall and short. (First: Episode 0303)
Early in his career, Flynn played small one-shot roles on The George Burns and Gracie Allen Show, The Twilight Zone, The Real McCoys, Gunsmoke, and Make Room for Daddy, usually playing fussy men in suits, as well as a regular stint on The George Gobel Show (1958-1959). He further cemented his type on The Adventures of Ozzie and Harriet, recurring as David's law firm boss Mr. Kelley between 1960 and 1963, and was a regular for the first season of The Joey Bishop Show (1961-1962) as Bishop's brother-in-law. Flynn's breakout part was a co-starring role on McHale's Navy (1962-1966) as the ever shouting Captain Binghamton, authoritarian foil to McHale. He reprised the part in two films, McHale's Navy (1964) and McHale's Navy Joins the Air Force (1965).
As his visibility increased in the 1970s, Flynn made frequent appearances on The Tonight Show and game shows. Other TV work included guest spots on Batman (as an accomplice of Catwoman), Blondie, I Dream of Jeannie, and Night Gallery. He appeared in ten live-action Disney movies (theatrical or for TV). With two exceptions (a TV commentator in Son of Flubber and flunky Havershaw in The Love Bug), he was invariably cast as crotchety bosses or establishment types (notably as Dean Higgins in three Kurt Russell college comedies). His final role, released posthumously, was the voice of Mr. Snoops in Disney's animated feature The Rescuers (1977).
External links
Community content is available under
CC-BY-SA
unless otherwise noted.