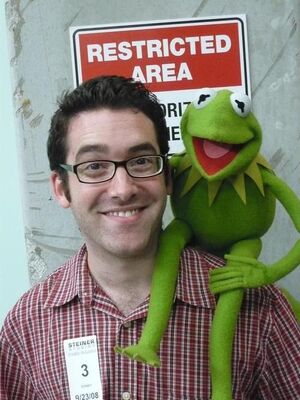 Joe Hennes is a blogger who worked for Sesame Workshop from 2012 to 2021. In 2015, he pitched and co-wrote with Geri Cole a parody of Birdman for Mashable, which was co-produced by Sesame Workshop. Hennes also scripted a 2018 YouTube video in which Elmo and Bob read Goodnight Numbers. He is also credited for "Series Consulting" on The Sesame Street Podcast with Foley & Friends.
Hennes, together with Ryan Roe, has administered the fan blog Tough Pigs since 2007, inheriting the reins from Danny Horn, founder of MuppetZine and Muppet Wiki. He has also written several entries for Sesame Workshop's official blog. [1]
On-camera, Hennes has appeared in the online video "Share It Maybe," and played a superhero-costumed attendee of Numeric Con in Sesame Street Episode 4504.
Among his contributions for Tough Pigs, he has interviewed Constantine and several Muppeteers from the red carpet premiere of Muppets Most Wanted; Rosita, Abby Cadabby and Gonger from the Sesame Street studios; and Gonzo and Pepe the King Prawn as part of the promotion of Muppets Now.