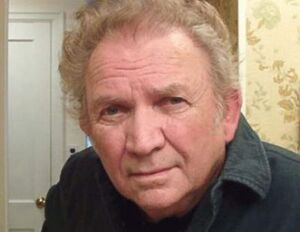 Joe Messerli (1930-2010), also credited as Joseph Messerli, was an illustrator and cartoonist who worked freelance in magazines, comics, children's books, and television graphics. He contributed to Sesame Street Magazine in the 1990s and illustrated several Sesame Street coloring books in 2000.
Messerli was a busy artist in the comics field, beginning with assistant work on the newspaper strip Ella Cinders circa 1948, and then on Napoleon and Uncle Elby in the 1950s. He also inked the comic strip version of The Flintstones. In comic books, he was mostly assigned to established cartoon or TV characters, including The Three Stooges, Daffy Duck, The Pink Panther, Disney's Robin Hood, and later for Tiny Toon Adventures Magazine (published by DC Comics), Aladdin, and Darkwing Duck. Storybooks or activity books included titles with Bugs Bunny (including Golden Books), Heathcliff, Scooby-Doo, Tweety, and Foofur. He wrote and illustrated a series of Who's Who? animal board books in 1988.
Messerli also worked as a graphic artist in television, notably designing the logo for The Twilight Zone (while working for UPA) as well as other titles and graphics for series (including credits art for Bonanza), commercials, and the extremely limited-animation series Clutch Cargo. He also directed or illustrated film strips for school use.
External links