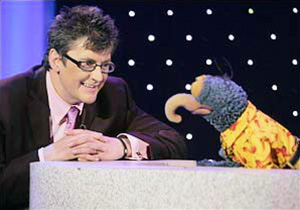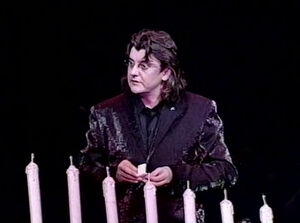 Joseph Ellis "Joe" Pasquale (b. 1961) is an English comedian famous for his high-pitched voice, use of visual gags.
Pasquale appeared in The Muppet Show Live in 2001:
"

'Q: I have to ask about the Muppet show I need to ask about that, I know it was about 3 years ago now but the 25 anniversary of the Muppet show in LA, you were the only British act in LA, you were alongside John Voit is that right.

A: I did the Royal Variety in 93, the Muppets where on it and met the producer, he said my son is a big fan of yours, will you come and do my son's Bar Mitzvah, so i did the Bar Mitzvah Then about 10 years he phones me up says, Joe what are you doing next week, I said I'm only rehearsing for a Panto, so he said do you fancy getting to Hollywood, can you get there for next week, I said what's for, he said 25 anniversary of the Muppet show, they've seen your tapes and think your a human Muppet, can you get out there and do 15 minutes on your own and 5 minutes with gonzo.

Q: Go on

A: I said who else is on the show, he said a couple of locals, I don't know who the locals are, Billy Millet and his dancing chickweed. I get out there and they stick me in this trailer with Jon Voight, Brook Shields and Paul Williams. It was the most amazing experience being stuck in a trailer with Jon Voight for four days; he thought I was off my head. He said to me, what are you doing, I said I was doing a Panto, they have no concept of what a Panto is in Hollywood; [in a mock American accent] what's a Panto. It's a bit like a musical play but its cack.[1]"
in 2005 Pasquale made An Audience with... special which Gonzo made a guest appearance.
Sources
External links
Community content is available under
CC-BY-SA
unless otherwise noted.