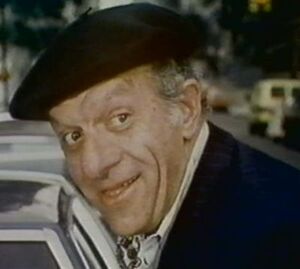 Joe Silver (1922-1989) was a character actor, notably on Broadway, and voice actor who made several guest appearances on Sesame Street as Arnold Hooper, brother of Mr. Hooper, beginning in 1980's Episode 1404. Also in 1980, he made a guest appearance on CTW's 3-2-1 Contact as a crook in a "Bloodhound Gang" story.
Silver made his Broadway debut in the 1942 revival of Tobacco Road and was in the original casts of Gypsy (as press agent Phil and theater manager Weber) and the one-act collection You Know I Can't Hear You When the Water's Running (later replacing lead Martin Balsam). For the Lenny Bruce play Lenny, Silver played multiple roles and received a Tony Award nomination for Best Featured Actor in a Play. His final role was as gangster Arnold Rothstein in the 1988 musical Legs Diamond, and Silver died a few days after the closing.
Concurrent with his stage work, Silver kept busy on television, mostly shot in New York, including a stint as straightman to Red Buttons and as a utility player on children's series Mr. I. Magination. He made appearances on Eastside/Westside (in an episode with Will Lee), The Phil Silvers Show, and The Patty Duke Show and was a semi-regular on 1967's Coronet Blue (coffee shop owner Max). By the 70s, Silver was making guest spots (usually as gruff business types) on Hollywood series like Sanford and Son, Chico and the Man, Gunsmoke, and Alice and co-starred on the short-lived sitcom Fay as the title character's ex-husband. Periodic movie work included The Apprenticeship of Dudley Kravitz, Rhinoceros (with Zero Mostel), the David Cronenberg horror flicks Shivers and Rabid, You Light Up My Life (Didi Conn's dad), Deathtrap (with Michael Caine, typecast as a producer), and Switching Channels (with Christopher Reeve).
Silver's deep voice was heard in commercials (notably as the bass elf in the Ajax ads) and on various 60s and 70s comedy records, including The First Family Volume 2, You Don't Have to Be Jewish, and The Second Coming (as God). He voiced the Greedy in the Joe Raposo scored animated feature Raggedy Ann and Andy and the Creep in Creepshow 2. On radio, Silver was heard on military-sponsored series as early as 1944, occasionally on The Couple Next Door in 1958, and over twenty times on the seventies revival series CBS Radio Mystery Theater.
External links
Community content is available under
CC-BY-SA
unless otherwise noted.