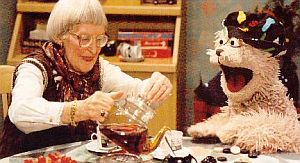 Wilhelmina (Joekie) Broedelet (October 4,1903- July 3, 1996) played Frank's grandma on Sesamstraat, the Dutch co-production of Sesame Street, from 1988 to 1990.
Frank's naughty grandma lived on Sesamstraat for two years. She was so old that she didn't have to care about parental authority: she usually stuck together with Tommie, Ieniemienie, and Pino.
Joekie Broedelet was 84 years old when she played the part of Frank's grandma. After two seasons, working on Sesamstraat turned out to be too tiring for her, and she had to quit.
Broedelet's son is the famous Dutch writer and columnist Remco Campert. He appeared on Sesamstraat in 2001 as one of the celebrities reading a bedtime story.
External links