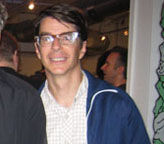 Joey Ahlbum is an animator and owner of the New York-based Ahlbum Animation Studios who has worked on Sesame Street since 1991. For the "Elmo's World" segments, Ahlbum designs and directs the Lecture Lady animated sequences seen on Elmo's TV.
Ahlbum has also animated standalone inserts, such as "Tall Short Texans," and supplied animated effects for the 1992 opening and closing titles for the show. Ahlbum also animated a WASA training film featured prominently in Episode 3698. He also contributed animation to another CTW series, Big Bag.
Ahlbum's other work includes serving as a director on the MTV series Daria and collaborating with Mo Willems and others on the 2000 short film Life. Ahlbum has also illustrated for Sesame Street Magazine.
Ahlbum also directed the What a Cartoon! short "Zoonatiks" for Cartoon Network, created channel idents for Nickelodeon, as well as providing animation graphics for Gullah Gullah Island.
Sesame Street Filmography
Picture
Title / First Appearance
Description

Tall Short Texans

---

Episode 3135
Two cowboys (one tall, one short) sing about their friendship.

Grover's Bubble Poem

---

Episode 3155
Grover recites a poem about a bubble (as animated by Ahlbum).

Fourteen Desert

---

Episode 3267
A man sings about how he sees the number 14 in the desert.

Thirteen Spring

---

Episode 3276
A bird pops out if a 13-shaped birdhouse, in a tree that has 13-shaped leaves, which is underneath a 13-shaped cloud.

Nine Underwater

---

Episode 3283
A song showcases various number 9s underwater (made of seaweed, a school of fish, and on a submarine).

Five Winter

---

Episode 3300
In an Arctic setting, the number 5 is made of icicles and chimney smoke from an igloo, all on top of a giant, icy number 5.

Word Blending: OW

---

Episode 3510
A song about words that end with "OW".

Word Blending: OP

---

Episode 3519
POP loves to BOP.

World Blending: IG

---

Episode 3525
A pig dances a jig while wearing a wig.

Zero Penguins at the Movies
Episode 4220
A family of penguins eat snacks at the movies, but leave 0 for the father.




Trucks
A series where trucks count themselves, then build the number of the day.

14 Trains

---

Episode 4281
14 trains arrive at a track, and count themselves.
External links