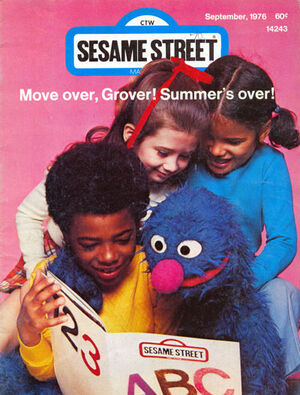 Joey Calvan appeared on Sesame Street as one of the kids in a series of sketches, primarily with Kermit the Frog.
One of her most notable appearances on the show was in a sketch where she sang the alphabet with Kermit. As the song progresses, she kept replacing certain letters with "Cookie Monster." The sketch has been used in a number of specials and clip shows as one of Sesame Street's most memorable moments.
She featured in other sketches with Kermit, appeared in the opening sequence during seasons seven and sixteen, included alongside the main cast in a season 4 promotional photo, and also featured on the cover of the September 1976 issue of Sesame Street Magazine with Grover and some other kids.
According to Sesame Street Unpaved,
Appearances
(Street scenes and repeating segments)
Episode 0871 — riding a tricycle in the opening scene and picking up toys in scene 3
Unknown — Joey shows Kermit which way is up and down.
Sources