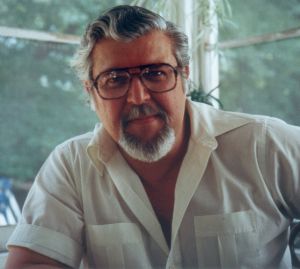 John Buscema (1927-2002) was a comic book artist, best known for his work for Marvel Comics. He did pencil art for the 1986 Labyrinth comic book.
Buscema began his comics career in the 1940s with Timely Comics (the predecessor to Marvel), working on Western, romance, and adventure comics. He later spent over two years on Roy Rogers comic books for Dell, and other varied titles, before taking an eight year break as a commercial artist. Returning to comics (and to Marvel) around 1966, he worked on Hulk stories in Tales to Astonish and then began a long stint on The Avengers, from 1967 until 1989. He drew the first seventeen issues of The Silver Surfer and was the regular penciler on Conan the Barbarian (1976-1985) and Thor (1970-1985, and a 1995 return), plus work on The Amazing Spider-Man, Fantastic Four, Tarzan, Howard the Duck, and many more.
Buscema's later work ranged from movie adaptations and the oddball Archie Meets the Punisher to finally working for DC Comics on Batman Black and White ("The Game of Bat and Rat" story) and the one-shot Superman: Blood of My Ancestors, released posthumously in 2003.