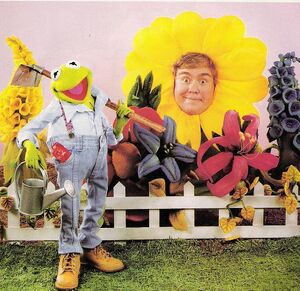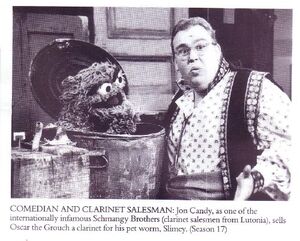 John Candy (1950-1994) was a popular comedic film and TV actor from Newmarket, near Toronto, Ontario, Canada. Candy first became well-known as a member of the original cast of SCTV.
In 1985, he made a cameo Sesame Street Presents: Follow That Bird as a state trooper who arrests Sam Sleaze and Sid Sleaze.
Candy then appeared on Sesame Street in season 18 in the guise of Yosh Shmenge, one of his characters from SCTV. In one scene, he performed the "Alphabet Polka." (First: Episode 2284) In another scene, Shmenge sells Oscar the Grouch a clarinet for his pet worm Slimey. (First: Episode 2301) Candy (as Shmenge) was included in the the celebrity version of "Put Down the Duckie." Archival footage of Candy's appearances was used in Stars and Street Forever
In 1986, Candy appeared in "John Candy's Ode to Spring", in Muppet Magazine issue 14.
Candy's other credits include the Frank Oz directed film Little Shop of Horrors (as radio host Wink Wilkinson), The Blues Brothers, Home Alone, Planes, Trains and Automobiles (with Steve Martin), and Cool Runnings (with Doug E. Doug).
Community content is available under
CC-BY-SA
unless otherwise noted.