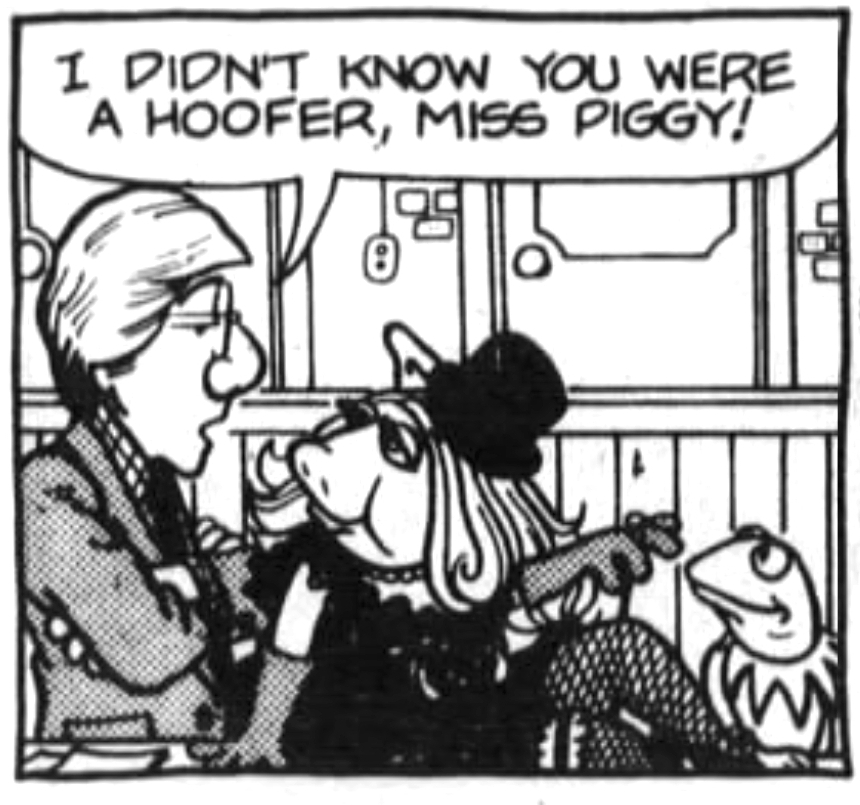 John Darling was a newspaper comic strip about a television talk-show host, syndicated from 1979 to 1990. The strip was the result of pairing Tom Batiuk, the creator of the popular strip Funky Winkerbean, with Tom Armstrong, who at the time drew a strip caricaturing Hollywood celebrities (and would later create Marvin). The strip was a spin-off of Funky Winkerbean, promoting hapless local TV reporter John Darling to the host of his own talk show, Darling. The strip ended in 1990 with the mysterious murder of John Darling (which was later solved in Funky Winkerbean).[1]
The talk show featured many celebrity "guests" -- including Miss Piggy, who appeared in the strip for a week in June 1979. In this sequence, the show's producer, Reed, teases John by promising him that "a certain well-known blond actress... who became a smash as a member of a TV program... and who just finished her first movie... is going to appear on our show this week!" John is delighted, thinking that he'll be interviewing Farrah Fawcett -- and winds up sitting down with Miss Piggy. John protests at the idea of interviewing a "stupid puppet," but Reed insists that he's finally booked a big star. John interviews Piggy for the week of strips, and the sequence ends with John making a pig joke and getting a karate chop in the neck.
The Muppets returned to the strip for two weeks in December 1980, for a story which brought John to the set of The Muppet Show as a guest star. The storyline begins with John writing to Jim Henson and offering to appear on his show; Henson replies that "we can always use another dummy!" John flies to London, where he meets Henson and Frank Oz.
For the next week and a half, the strip created its own fictional episode of The Muppet Show. John talks backstage with Miss Piggy, Kermit the Frog and Scooter, and appears in a magic act with Gonzo. Statler and Waldorf make a joke at John's expense, and then John appears in a "Veterinarian's Hospital" sketch with Dr. Bob, Nurse Piggy and Nurse Janice. The sequence ends with John and Kermit saying good night in front of the curtains.
1979 strips
1980 strips
Sources
↑ Isabella, Tony. Hogan's Alley #6, Winter 1999.