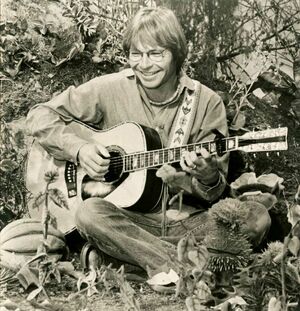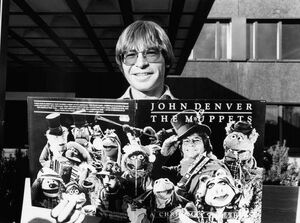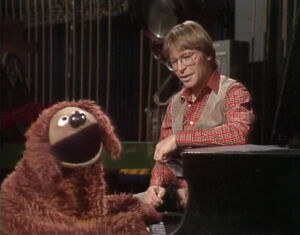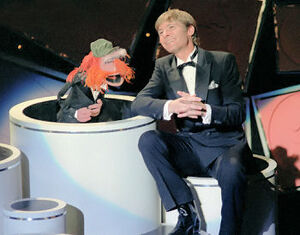 John Denver (1943-1997) was a popular American country and folk singer-songwriter, environmental activist and actor during the 1970s. His hits include "Annie's Song," "Sunshine on My Shoulders," "Thank God I'm a Country Boy," "I'm Sorry" (all #1s), "Rocky Mountain High" and "Take Me Home Country Roads." He also starred in Carl Reiner's 1977 comedy Oh, God!, opposite George Burns in the title role.
Denver died in a light plane crash off the California coast on October 12, 1997.
1979: Guest star on The Muppet Show episode 401.
1979: Recorded a Christmas album in the summer, A Christmas Together.
1979: Hosted television special John Denver & the Muppets: A Christmas Together.
1983: Hosted television special Rocky Mountain Holiday; also released an album of same title.
1983: Performed "Gone Fishin'" from Rocky Mountain Holiday with Floyd Pepper at the Grammy Awards show.
1983: Referenced in the "Great Muppet Look-Alike Contest" in Muppet Magazine issue 1, paired with Scooter.
1983: Appears in a public service announcement for National Wildlife Federation with Kermit.
1985: Performed a children's concert at the American embassy in Moscow with Kermit.
1990: Cameo appearance in TV special The Muppets Celebrate Jim Henson. His birth name "Henry J. Deutschendorf Jr." is noted by Rizzo.
1990: Windstar Records reissues A Christmas Together album on CD.
1996: LaserLight releases a second reissue of A Christmas Together on CD, with proceeds going to Plant-It 2000, a charity endorsed by Denver.
1999: Brian Henson pays tribute to Denver in an intro to his episode of The Muppet Show. This would appear in 2002 on Time-Life's DVD release of the episode.
2003: Rocky Mountain Holiday special is released on DVD by Columbia/Sony (The plane flying segment with Rowlf is cut in sensitivity to the nature of Denver's passing).
External links
Community content is available under
CC-BY-SA
unless otherwise noted.