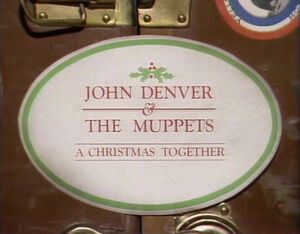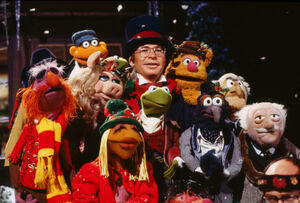 A Christmas Together is a television special starring John Denver and the Muppets. Based on the album of the same name, this one hour Christmas special was originally produced for ABC and aired on December 5, 1979.
Highlights
The program concludes with Denver and the Muppets singing "Stille Nacht," and children in the audience join in for the English version, "Silent Night."
Reviews
Writing for the Los Angeles Times, James Brown found the combination of Denver and the Muppets to be an "overdose of cute". He opined that the special "overextends its welcome with too many spoonfuls of sugar and not enough holiday surprises. Denver's easy-going songs tend to blur from one to the next. Miss Piggy coos and boils in predictable fashion. The production numbers are ordinary. And the cardboard sets and spray-can snow do little to unearth the holiday spirit. Only Kermit the Frog — thank God for Kermit — manages to touch and tickle us as he talks about building a "snow frog" back at the old pond. Now that's cute."[1]
Bill Hayden starts his review for the Gannett News Service by placing John Denver at the top of his list of "least favorite performers" and the Muppets as ranking "exceedingly high" on a list of his most-liked performers. He goes on to credit Miss Piggy for stealing the show (particularly in "I Will Wait for You") and points to the "beautifully serious" nativity scene as the special's highlight.[2]
Muppet Characters
Credits
Cast
Muppet Performers
Notes
The three-minute sequence of wooden soldiers dancing and singing "Camaraderie" was deleted from some reruns on The Disney Channel (which also appear to be slightly zoomed in compared to the original broadcast). The original ABC broadcast also included an announcer mentioning the sponsors, DuPont and Dr. Pepper, at the end of the first and last segments. Some Disney Channel airings also included part of an introduction with Michael Eisner and Kermit the Frog which was filmed for an NBC airing of A Muppet Family Christmas.
The special references two previous Muppet segments:

John and Miss Piggy's conversation refer back to John's Muppet Show episode, which would have aired in American syndication by this point.
During the "I Will Wait for You" number during a "slow motion" scene with John, Piggy mentions "I seem to remember doing this in a movie somewhere", referring to "Never Before, Never Again" in The Muppet Movie.
Twenty-two new Muppets were created for the nativity scene.[2][5] Jim Henson told the press, "they were carved from urethane foam, like most of the Muppets, and painted in New York. We had to be careful not to offend anyone by giving the figures comic characteristics. These are the first serious puppets we've made."[6]
Gallery
Sources
See also