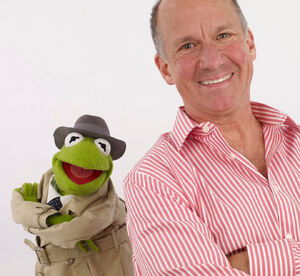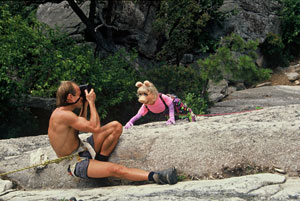 John Barrett (b. April 30, 1951) is a New York photographer who has worked for the Muppets and other Jim Henson Company properties as well as Sesame Workshop.
Born in Tyler, Texas, Barrett worked as an apprentice photojournalist for Conti-Press, in Hamburg, Germany. He then attended the Art Center College of Design in Los Angeles. He assisted various photographers before opening his own studio in 1974 in New York City with photographer David Arky (who left to be on his own in 1976). Some of their early work included the National Lampoon poster, "Are You a Nerd?"
Barrett's first encounter with Jim Henson occurred when he was commissioned by designer David Kaestle to photograph the puppeteer with an early version of Cookie Monster. In 1979, David Kaestle recommended Barrett to provide display photography for the "Art of the Muppets" traveling exhibit, and the subsequent Art of the Muppets book.
In 1980, to meet the growing demand for top quality photography in a specialized field, the Henson Company established the Henson Photo Studio, which was overseen by Calista Hendrickson. In 1985, the studio moved from the Muppet Workshop to a three story carriage house. Barrett worked closely with Michael K. Frith on such projects as Miss Piggy's Guide to Life and the Miss Piggy calendars, and with Bob Payne, Jim Mahon, Rick Wetzel, Lyndon Mosse, and Lauren Attinello.
Barrett's photo team included scenic artist Bruce Morozko, prop master Karl Soderstrom, costumers Deborah Lombardi and Barbara Davis, stylist Danielle Obinger, and photograph assistants Marianne Bernstein and Christie Sherman.
Barrett was responsible for the photography used in most of Henson publications including Muppet Magazine, calendars, posters, licensing, books, press releases, advertising, corporate jobs and more. He also supplies the puppet photography for Sesame Street, Fraggle Rock and Bear in the Big Blue House, and other children's TV shows including Between the Lions.
In December 2005, the Museum of Television and Radio in New York City presented an exhibit of Barrett's photography called "The Muppets Say Cheese", which ran through April 2006.
Barrett continues to work occasionally with the Muppets, including creating an image for the widow of Jerry Nelson, featuring Robin, Floyd and Jerry.
Examples
External links
Community content is available under
CC-BY-SA
unless otherwise noted.