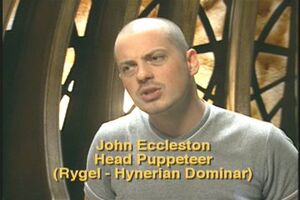 John Eccleston is a British puppeteer who has performed on such shows as The Animal Show and Farscape for the Jim Henson Company.
Eccleston was a presenter for the British programs The Disney Club and Get the Picture, and was co-creator, along with Darryl Worbey and Don Austen, of the British puppet show The Leprechauns.
He currently performs the anchor of the BBC TV series Horrible Histories - Rattus Rattus.
Credits
Jim Henson's The Animal Show with Stinky and Jake: Yves St. La Roache (seasons 2 and 3), Additional Muppets including Morely the Mole, Monty the Elephant Seal, Zack the Arctic Fox, Ralph the Moose, Nico the Marine Iguana, Jackie the Orangutan, Perry the Wild Horse, Andrew the Reindeer, Warren the Warthog, a raccoon, a wildebeest, Harvey the Hummingbird, Andrew the Humpback Whale, Hector the Spider Monkey, Barry the Honeybee, Sly the Crocodile, Morris the Ant, Jasper the Jaguar, Yorick the Salmon, Cody the Colobus Monkey, Winston the Woodpecker, Melanie the Mink and Ernie the Mongoose
External links
Community content is available under
CC-BY-SA
unless otherwise noted.