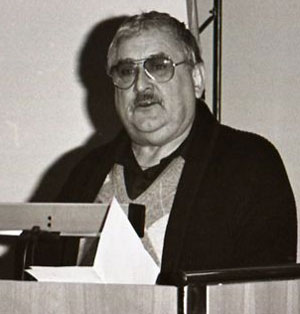 John Harryson (1926-2008) was a veteran Swedish actor who dubbed Bert on Svenska Sesam, the Swedish co-production of Sesame Street), and Balthazar on Leksakernas Hemliga Liv, the Swedish dub of The Secret Life of Toys. His son, Peter Harryson, voiced Ernie on Svenska Sesam.
Harryson made his theater debut at age 14, at Arbisteatern in Norrköping. He studied acting at Gösta Terserus theater school (1943-1944). He appeared in many theaters around Sweden. He made his movie debut in the 1946 film Begär, played a principal role in Ingmar Bergman's Monika, and appeared in over 50 movies and TV productions.
Harryson was the official voice of the Disney characters Scrooge McDuck and Eeyore. He has also been heard in the Disney movies Pinocchio (as Geppetto), Snow White and the Seven Dwarfs (as Doc), Dumbo (as Joe and a clown), Robin Hood (as the Sheriff of Nottingham), and others.
External links