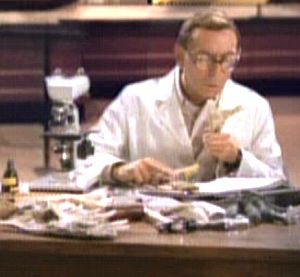 John Hawkes (b. 1959) is an Academy Award-nominated character actor who appeared in the Dinosaurs episode "The Clip Show II" as Andrew, a silent paleontologist.
Hawkes began his career as a musician, performing in a 1980s punk band called Meat Joy, before transitioning to acting. He made his film debut in 1987, as the lead in the minor independent film Murder Rap, followed by bit parts in more mainstream productions like Johnny Be Good and Heartbreak Hotel. He transitioned to supporting roles in Congo, From Dusk Til Dawn (as the liquor store clerk Pete), The Perfect Storm (as lovelorn sailor Bugsy), and the 2006 film version of Miami Vice. He received critical acclaim for Winter's Bone (2009) and an Oscar nomination for Best Supporting Actor. He currently alternates between leads, often in independent films (The Sessions opposite Helen Hunt) while still playing character or ensemble roles (Contagion, Abraham Lincoln).
In television, he's had recurring roles on Deadwood (as Jewish merchant Sol Star) and Eastbound & Down (as Dustin Powers), and has guest starred on Lost (three episodes as Lennon), Buffy the Vampire Slayer, 24, The Practice, and The Adventures of Brisco County Jr.
External links
Community content is available under
CC-BY-SA
unless otherwise noted.