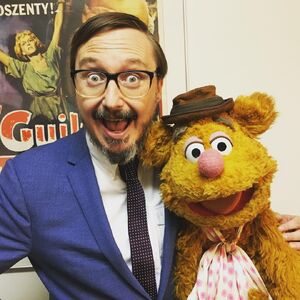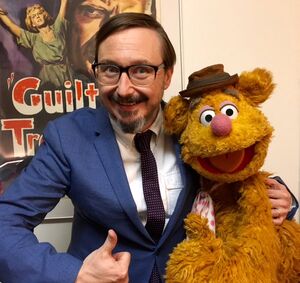 John Hodgman (b. 1971) is an American author, actor, and humorist. He wrote The Areas of My Expertise and other books. He became recognizable as a correspondent on The Daily Show with Jon Stewart and from appearing in Apple's "Get a Mac" commercials, playing PC opposite Justin Long's Mac.
Hodgman appeared as a contestant alongside Fozzie Bear and Kristen Schaal on the May 24, 2016 episode of @midnight with Chris Hardwick.
Hodgman's film credits include Baby Mama (with Tina Fey and Amy Poehler), voice work in Coraline (with Teri Hatcher, Jennifer Saunders and Dawn French), The Invention of Lying (with Ricky Gervais, Jennifer Garner and Jonah Hill), Pitch Perfect 2 (with Anna Kendrick and Brittany Snow). On TV, he guest starred on Battlestar Galactica, Flight of the Conchords (with Bret McKenzie, Jemaine Clement, and James Bobin), Community, 30 Rock, Parks and Recreation, and Comedy Bang! Bang!.
Notes
In an appearance on the Stuff You Should Know podcast, Hodgman mentioned that his favorite Muppet is, without question, Kermit the Frog. Hodgman also argued that The Muppet Movie is one of the most overlooked great films of the 1970s. He also alluded to being present at a table read for The Muppets and having his picture taken with his Muppet doppelgänger Dr. Bunsen Honeydew. (YouTube)
Exernal links