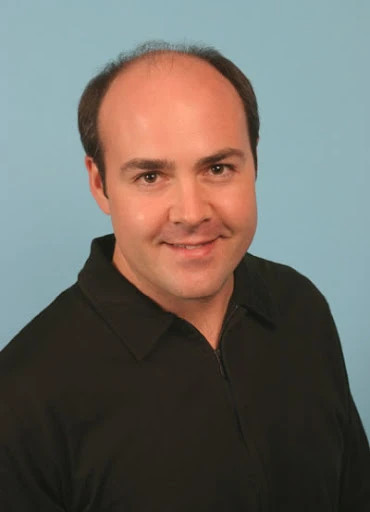 John E. Kennedy (b. November 17, 1967) is a puppeteer who has performed on various Muppet projects since the early 1990s.
Kennedy began building puppets as a child in his hometown of Plainfield, Indiana where he performed shows at local libraries. One of his first professional jobs was as a singing, dancing, banjo-playing puppeteer at the Indianapolis Union Station Festival Marketplace.
While working on a bachelors degree in theater at Indiana University Purdue University at Indianapolis (IUPUI), Kennedy wrote to the Jim Henson Company and was invited to several performer workshops in New York City. Around the same time, Kennedy coincidentally landed a job as a dancer in the Muppet revue, Here Come the Muppets, at Walt Disney World. He relocated to Orlando, Florida, and in a few weeks found himself working beside Jim Henson himself. Kennedy would go on to work with the Jim Henson Company and the Muppets in a relationship that continues to this day.
In addition to puppeteering, Kennedy has lent his other skills to various Henson projects. He helped write songs for The Wubbulous World of Dr. Seuss (including the "Fox and Knox" theme), and choreographed Kyra Sedgwick's musical number in Episode 4213 of Sesame Street.[1]
In later years, Kennedy developed a career as an author and has written two popular puppet making books, Puppet Mania! and Puppet Planet. He also hosts puppet making videos on the internet, builds puppets for various non-Muppet projects in the United States, and has taught MFA classes in puppetry at the University of Central Florida.
Credits
Dinosaurs: Baby Sinclair (eyes), Spike, Sid Turtlepuss, Bryant, Mindy, Richard (animatronic/radio puppeteer only)
Sesame Street: Ball of Wax, Bathtub (Episode 4606), Bip Bippadotta, Brownie Square, Fido, one of the Four Grouches Named Moe, one of The Friendly Froggies Five, Fred and Ned, The Green Four-net, Subject in "King Sneer," Thing Muppet, The Amazing Mumford (2018-present)
Stars and Street Forever: Telly Monster (assistant)
Muppet Sing-A-Long: It's Not Easy Being Green: Additional Puppeteer
Muppet Treasure Island (video game): Dr. Teeth
Muppets Tonight: Female Prawn of The Rock Lobsters
Aliens in the Family: Bobut (puppeteer only)
The Wubbulous World of Dr. Seuss: Alvin, the Alien from Malamaroo, Announcer, Armand, the Mayor's Servant, Backup Singer, The Birthday Bird, Celli, Downer Than Down Guy, Felix Finkledooper, Flitzpizzle, Hairy, Herbie Tidbiddle, Horace P. Riddley, Horton the Elephant, Irish Setter, Julian Jeremy Jaroo Jalloo, King Lindy of Lime, Little Cat C, Little Wimpy Guy (voice), Man from "Up With Folks", McZuff, Money Whozit, Mr. Dorfman, Milo, Mr. Knox, Muckster, Narrator, Nervous Whozit, Norval the Fish, Raffle Ticket Selling Kid, Rock Singer, Sam-I-Am, Singing Lion, Spaceman, Thaddeus, Uncle Docks, Uncle Dutter (assistant), Uncle Norton, Picnic Bug
Telling the Truth: Additional Puppeteer
Elmopalooza: Additional Puppeteer
Brats of the Lost Nebula:

Rile

(puppetry), Additional Voices
Muppets from Space: Dr. Teeth, Alien Gonzos, Beach Hippie, Fozzie Bear and Sam the Eagle (latter two, puppetry only)
Muppet RaceMania: Dr. Teeth, Rowlf the Dog
Muppets Party Cruise: Animal, Dr. Teeth
A Magical Halloween Adventure: The Amazing Mumford (on-set, Jerry Nelson looped dialog)
Pajanimals: Apollo (also Puppet Captain)
Julie's Greenroom: Toby
Sesame Street's 50th Anniversary Celebration: The Amazing Mumford
See also
Sources
External links