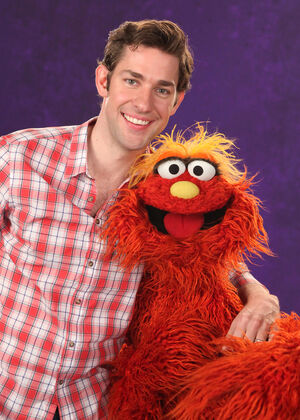 John Burke Krasinski (b. 1979) is an American actor. He is best known for his role as Jim Halpert in the NBC comedy The Office.
Krasinski appeared on Sesame Street to explain the word "soggy" with Murray Monster in a Season 42 Word of the Day segment. He also makes an appearance in the 2011 film The Muppets.
Voice-over work for the big screen includes Shrek the Third (with Mike Myers, Eddie Murphy, Cameron Diaz, Antonio Banderas, Justin Timberlake, Julie Andrews, and John Cleese) and Monsters vs. Aliens (with Reese Witherspoon and Hugh Laurie). Other film roles include Leatherheads, License to Wed and It's Complicated.
External links