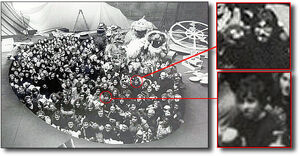 John Landis (b. 1950) is a film director who has helmed such films as The Blues Brothers, An American Werewolf in London, Twilight Zone: The Movie, Into the Night, and Spies Like Us, and Animal House. In many of these films he has cast Frank Oz in bit roles, and An American Werewolf in London even features a scene from The Muppet Show.
His earliest Muppet connection was as a performer in the finale of The Muppet Movie. In a scene filled with hundreds of Muppets and performers, Landis manipulated Grover.[1]
In 1990, Landis directed the Muppets in Disneyland's 35th Anniversary Celebration.
Landis also made several cameo appearances in Muppet productions; including in The Muppets Take Manhattan as Broadway producer Leonard Winesop, and as himself in the "She Drives Me Crazy" music video and the Muppets 2007 Presentation Pilot.
Sources
External Links