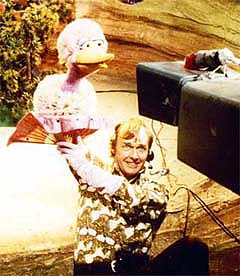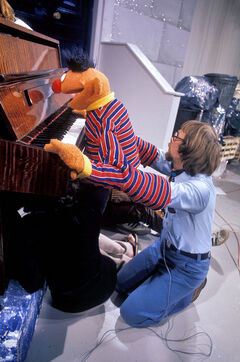 John Lovelady joined the Jim Henson Company in 1970, as one of several new puppeteers chosen by Jim Henson to perform in the Christmas special The Great Santa Claus Switch. Lovelady worked as a Muppet Workshop designer and builder on various projects through the 1970s, including Sesame Street, and was an occasional performer in specials.
During the first season of The Muppet Show, Lovelady was a regular performer, playing the roles of Crazy Harry and the Announcer for Veterinarian's Hospital for most of that first year. Lovelady remained on staff as a builder in the New York workshop until The Muppet Movie completed production, going on to perform in a number of non-Henson puppet series.
He was born in Oxford, Mississippi, and attended the same (consolidated) grade school as Jim Henson, though he was in sixth grade while Henson was in first. He attended the University of Memphis (1950-1953), graduating with a B.A.Sc. in Theatre, as well as the University of Arkansas at Fayetteville (1953-1955), with an M.A. in Theatre.
Outside of the Muppets, Lovelady was a regular on The Great Space Coaster (as Knock Knock and Edison the Elephant) and on the Disney Channel series Dumbo's Circus (as master puppeteer and various hand-puppet roles). He worked on the first season of ALF, as a technical consultant for the first episode and puppeteering other Melmacians in "Help Me, Rhonda," and on the direct-to-video series Mother Goose Video Treasury. He was a builder and puppeteer on the Sid and Marty Krofft series D.C. Follies and played the Dormouse on another Disney Channel show, Adventures in Wonderland.
For nearly five decades, he has been married to Nancy McGeorge, who performed background characters on The Muppets Valentine Show. They have two children, Scott and Kate.
Muppet/Henson Credits
Performer
The Muppet Show: The Announcer (episodes 109, 113-117), Baskerville the Hound (episode 103), Bernie, Bruce, Crazy Harry (first season), Male Ghost, Green Frackle (episode 118), Iggy Wiggy, Nigel (first season), Rats (episodes 102, 107, 109), Rita Moreno's dancing partner (episode 105), Talking House #1
Keep U.S. Beautiful: Bottle
Designer/Builder
External links