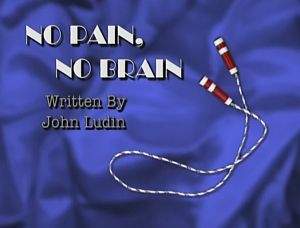 John Ludin is a TV/film writer and playwright, who scripted the third season Dog City episode "No Pain, No Brain."
Ludin began writing for the Walt Disney Company in 1978, creating character shows and events for the theme parks, including a couple of projects with Wally Boag, featured guest artist in episode 520 of The Muppet Show. After seeing the Muppet Movie, Ludin set his sights on writing for the Muppets, submitting two projects, which lead to a lunch with Mr. Henson at Elstree Studios in October, 1980 (during filming of The Great Muppet Caper). Although no job materialized at the time, Ludin kept in touch, corresponding with Mr. Henson. Moving into television animation in the mid 1980s, Ludin first series was CBS' The Get-Along Gang. He worked for Hanna-Barbera on The 13 Ghosts of Scooby-Doo, Yogi's Treasure Hunt, Pound Puppies, The Flintstone Kids, The Completeley Mental Misadventures of Ed Grimley, and Bill & Ted's Excellent Adventures, as well as the specials The Flintstones' 25th Anniversary Celebration and The Good, the Bad, and Huckleberry Hound.
Ludin moved to Universal Studios to produce and write the animated Back to the Future series. Other credits include The Mask, Animaniacs, Pinky and the Brain (Emmy), Digimon, and House of Mouse. In 2003, he wrote multiple LeapFrog home video releases. Retired from TV animation, Ludin founded a theatre company in Montana in 1995 and purchased a 1919 vaudeville house, The Ellen Theatre, which is still running today.
External links