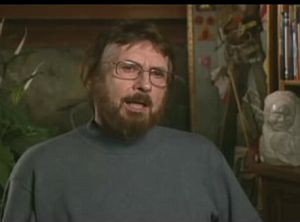 John Moffitt is a TV director, working mostly on comedy and variety series, who directed the Muppets on several occasions. He was the series director on Our Place (the 1967 summer replacement series starring Rowlf) and also helmed the Muppet special The Great Santa Claus Switch (1970) and The Perry Como Winter Show (1972).
Like Jim Henson, Moffitt was a long-time client of Bernie Brillstein. He was the regular director for the later seasons of The Ed Sullivan Show and later directed for Van Dyke and Company, The Burns and Schreiber Comedy Hour and Mr. Show, as well as producing and directing on Fridays and Not Necessarily the News in addition to working on numerous specials and multiple Emmy Award broadcasts. Most recently, Moffitt has directed or produced many cable stand-up comedy specials, including Ricky Gervais and Cheech and Chong.
External links
Community content is available under
CC-BY-SA
unless otherwise noted.