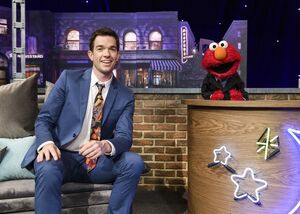 John Mulaney (b. 1982) is an American stand-up comedian, actor, writer and producer, known for his work as staff writer and host of Saturday Night Live.
He appears as a guest on The Not-Too-Late Show with Elmo in 2020.
Along with SNL head-writer Seth Meyers, Mulaney wrote the lyrics for the song "I Can't Believe I'm Hosting SNL" which was sung by the Muppets and Jason Segel on Saturday Night Live in 2011.
Muppet Mentions
From 2014 to 2015, John Mulaney starred in the sitcom Mulaney as a fictionalized version of himself (doing his own stand-up every show). He worked as a writer for late night host Lou Cannon (Martin Short), while other regulars were Nasim Pedrad (Jane) and Elliott Gould (Oscar).
In the season one episode "In the Name of the Mother, and the Son, and the Holy Andre," Jane goes on a birth control pill which has side effects including high-pitched voice and "cartoonishness." Once Jane starts to feel the effects, her roommate Motif warns her to get off the pill before she's cast in the next Muppet movie.
In a later episode that season, "It's a Wonderful Home Alone," Lou Cannon mentions that he's booked the Zoggles, "the world's second-most beloved puppets," for his Christmas specials. John asks, "the Muppets have a thing in Dubai?" Lou replies, "the Muppets always have a thing in Dubai."
External links
Community content is available under
CC-BY-SA
unless otherwise noted.