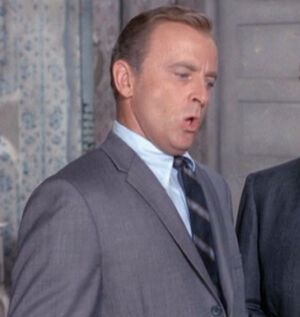 John Stephenson (1923-2015) was a veteran voice actor, dating back to network radio in the 1950s, and later a staple of Hanna-Barbera cartoons. He was heard on the 1987 Fraggle Rock animated series, as Doc and Philo and Gunge (though the latter role was often filled by Bob Bergen, especially in the song sequences). He also voiced the unnamed Fraggle doctor in "Wembley's Trip to Outer Space."
In 2000, Stephenson supplied several character voices in the Creature Shop-production The Flintstones in Viva Rock Vegas, namely an animatronic octopus croupier, the off-screen announcer for Mick Jagged's concert, and the dubbed voice of the wedding minister (played on-camera by Walter Gertz).
Stephenson's radio career included dramatic roles on Suspense, Gunsmoke and CBS Radio Workshop. He was a frequent announcer/narrator on early television series, serving as the closing credits announcer on I Love Lucy and the voice on the 1967 version Dragnet who solemnly intoned, "And now, the results of the trial." His on-camera credits included guest appearances on Perry Mason, The Lone Ranger, Get Smart, and Lou Grant, while films included bits in Topaz and Herbie Rides Again.
However, most of Stephenson's career was spent voicing animated characters, especially for Hanna-Barbera: Mr. Slate in The Flintstones (which inspired the Creature Shop film of the same name); Doggie Daddy in Yogi Bear series and specials from the 1970s onward; Fancy-Fancy on Top Cat; ineffectual authority figures to the likes of Squiddly Diddly (Chief Winchley) and The Hair Bear Bunch (Mr. Peevely); and many villains on the various incarnations of Scooby-Doo (often griping about "meddling kids"). His last credit was voicing a sheriff in the 2010 direct to video movie Scooby-Doo! Abracadabra-Doo. Outside of HB, he was heard on The Transformers, various 1980s Marvel series, guest characters on Disney's TaleSpin and Darkwing Duck, and Duck Dodgers (as Guardian of the Universe Ganthet).
See also
External links
Community content is available under
CC-BY-SA
unless otherwise noted.