John Tartaglia (b. February 16, 1978) is a puppeteer and actor whose professional career started on Sesame Street, subsequently leading to Broadway stardom and a Tony-award for originating the roles of Princeton and Rod in Avenue Q, off- and on-Broadway, and in the short-lived Las Vegas production.
As a teenager, Tartaglia danced as Cookie Monster and Oscar the Grouch at Sesame Place. He subsequently began on Sesame Street at the age of 16, performing background characters and assisting.[1] Tartaglia has continued to puppeteer for Sesame Street occasionally after Season 35. He performed more major roles during Seasons 43 and 44, such as Brandeis the dog in Episode 4307, Birdie in the resource video Little Children, Big Challenges: Divorce, and various characters for "Elmo the Musical." He has also lent his vocals to inserts, such as "Brothers and Sisters" with Stephanie D'Abruzzo (First: Episode 4056).
Other stage credits include Pinocchio and the Magic Mirror in Shrek on Broadway and Lumiere in the Broadway production of Beauty and the Beast. He also portrayed the role of the Genie in a 2012 St. Louis production of Disney's Aladdin and directed Because of Winn-Dixie, with a real dog on stage. Tartaglia hosts Sunday Funday on Sirius XM On Broadway (Channel 72).
Tartaglia had his own Disney Channel TV series, Johnny and the Sprites, where he starred on-camera opposite puppets played by veteran Sesame Muppeteers. He discussed the experience in a TV Guide interview:
"

It is funny because we'd give the humans and celebrities a hard time when they came on [Sesame Street], when they were talking to the puppet and they'd look at the puppeteer and at the monitor that the puppeteers watch to perform. My first two days of shooting were really weird. I kept looking at Leslie [Carrara-Rudolph], who performs Ginger, and I'm like, "What am I doing? I know better than that!" It is challenging at first, but the puppeteers we have on the show are the best of the best, and they always make me believe that they are real. It doesn't take much to believe for a little while that you are talking to these real creatures.[2]

"
Muppet Credits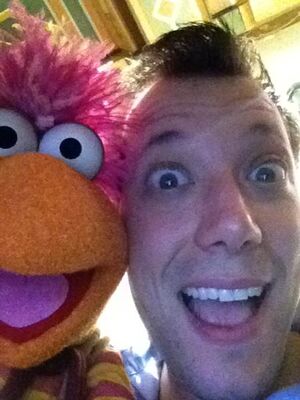 Trivia
According to The MuppetCast episode #41, Tartaglia's biggest inspiration in performing was Richard Hunt.
Tartaglia says Ernie is his favorite Sesame character. "I was really honored to do Ernie for one season of Play with Me Sesame. Jim Henson was my hero, and the reason I am here now. So to actually have his character and to work with it and that voice and to make that relationship happen with Bert, I was just really honored. You feel like you are a part of history."[2]
In 1990, TV series MMC had a contest to meet Jim Henson and the other Muppet*Vision 3D puppeteers while they were filming. Producers say John lost to Joe Apel, due to the fact Apel was close to Los Angeles. [citation needed]
An interview with Tartaglia was included as a bonus feature for the Being Elmo: A Puppeteer's Journey DVD.
See also
External links
Sources
↑ Season 36 Press Kit (archived)
Community content is available under
CC-BY-SA
unless otherwise noted.