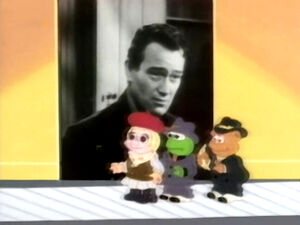 John Wayne (1907-1979) was an actor best known for appearing in Westerns. Although he'd been active in movies since the mid 1920s, often in bit parts, he gradually became a cowboy star of movies and serials for low-budget studios (including the Three Mesquiteers series) before his breakout role as the Ringo Kid in John Ford's Stagecoach (1939).
Wayne would make many more movies with Ford (including The Searchers) and become synonymous with the Western genre (although he also starred in action or war films such as In Harm's Way). His distinctive vocal patterns were often imitated and represented a specific type of male machismo. Later work included frequent cameos as himself, introducing the first television episode of Gunsmoke and joking on Laugh-In, as well as his Academy Award-winning turn as Rooster Cogburn in True Grit in 1969.
References
Mickey Moose from The Muppet Show spoke with a Wayne-like twang in his voice.