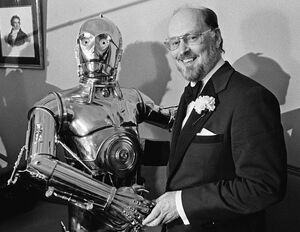 John Williams (b. 1932) is a composer of film and concert music. As conductor of the Boston Pops, in 1981 he gave an introduction to the rebroadcast of a 1971 episode of Evening at Pops featuring the cast of Sesame Street.
Having written some of the most recognizable film themes over the course of a career spanning six decades, his music can be heard in several Muppet productions. The main title music from Star Wars is featured in episode 417 of The Muppet Show to underscore the heroics of Luke Skywalker. The tune was later "clucked" in a live performance at the 2012 New York Comic Con by Darth Chicken.
The "Raiders March" from the Indiana Jones movies takes center stage during Kermit and Miss Piggy's participation in the Indiana Jones Epic Stunt Spectacular as seen in The Muppets at Walt Disney World. The adventurous theme was also incorporated into the Muppet Babies episodes "Raiders of the Lost Muppet" and "Muppetland".
His two-note motif for the shark from Jaws has been spoofed in a series of segments on Sesame Street involving a large letter of the alphabet creeping up on children playing in a pool. The theme was also spoofed in Rocky Mountain Holiday for a scene depicting Gonzo's nose peering out of the water as he closes in on Rowlf's inner tube. When the special was released to DVD, the music was replaced with something more generic.
When Captain Vegetable made his entrance in Sesame Street Episode 1858, Williams' main theme from Superman: The Movie was parodied for the character's fanfare.
Bert and Ernie hum Williams's tunes from Star Wars, The Empire Strikes Back, and Close Encounters in the end credits of the video game Ernie's Adventures in Space.
Thomas Wilkins conducted a brief rendition of Williams' 5-note alien motif from Close Encounters of the Third Kind when First Mate Piggy makes a joke about "getting together" with the attractive members of the audience attending The Muppets Take the Bowl. The same bit also included brief performances of E.T. - The Extra Terrestrial (as Kermit's silhouette passed the moon riding a bicycle), as well as Williams's main title theme from the third season of Lost in Space. The excerpts were halted by the intervention of a copyright lawyer played by Bobby Moynihan.
Beginning in 2001, Williams scored the first three films in the Harry Potter series, including Harry Potter and the Sorcerer's Stone, which featured involvement from Jim Henson's Creature Shop.
His other work includes The Poseidon Adventure, The Towering Inferno, Jurassic Park, Close Encounters of the Third Kind, Dracula (1978), JFK, Hook, Alfred Hitchcock's Family Plot, and the NBC Nightly News theme.
External links