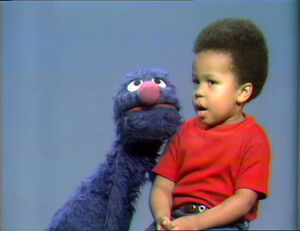 John Williams III (born in New York City on September 24, 1969), better known to audiences as John-John, was one of the many small children who appeared on the early seasons of Sesame Street. He joined the show at the age of three, after his mother answered an open call for Sesame Street kids. "The thing that clicked, my mother told me, was that I was able to relate to the Muppets. I wasn't afraid of them," Williams said in a 1998 interview. "And I remembered every single character's name." In another interview Williams said, "I think what they liked was that I communicated with the Muppets with eye contact, like they were humans."[1] He also could count in English, French, and Spanish.[1]
Though he appeared on the street segments with Mr. Hooper, Susan, and the rest, John-John's shining hour was his honest, often unpredictable, interactions with Grover, Herry Monster, and others. John-John contributed to many of the best remembered Sesame Street Muppet & Kid Moments.
John-John sang "Still We Like Each Other" with Grover on the 1973 album Sesame Street LIVE!, and also sang in the children's chorus on that album. John-John once participated in a game of "One of These Things", in which he pretended to be Bob while Bob pretended to be John-John and answered the question.[2]
As a young man, Williams (nicknamed John John by his mother after John F. Kennedy Jr.)[1] joined the Air Force, and was stationed at Laughlin AFB in Texas.[3] He made a special appearance in the 1989 TV special Sesame Street: 20 and Still Counting, where he reunited with Herry Monster.
A 1998 interview in the San Antonio Express-News described a funny moment in Williams' relationship with his wife:
"

Williams has been married to Lupita, a native of Del Rio, for nine years. They met when he was stationed at Laughlin AFB. Two months into their relationship, he dropped the bomb. Williams told his future wife of his childhood stardom. She still laughs about the sudden revelation. "When he told me, right away it clicked: 'You're the kid with the cheeks,'" Lupita recalls.[3]

"
As of 1998, Williams and his wife resided in San Antonio with their two children, and was working on establishing himself as a Tejano singer,[3] following in his parents entertainment footsteps (his mother was a jazz singer, and his father was a bassist for Doc Severinsen's Tonight Show band).[1]
Sketches
Grover and John-John count backwards
John-John: A Case Study
In his 1974 book Children and Television: Lessons from Sesame Street, Gerald S. Lesser closely examines the interactions between children and Muppets, and the feelings experienced by children upon successfully learning or grasping a concept, what he terms "the power of the ordinary." Dr. Lesser uses the counting scene with John-John and Herry as a prime example.
"

John-John, a small black three year old, is counting to twenty with one of the Muppet Monsters. John-John is brimming with confidence, throwing back his head and bellowing each number in turn. Suddenly, reaching fourteen, he falters and realizes he does not know how to proceed. Confusion covers his face, his sublime confidence crumbles. The monster encourages him, telling him that he knows he can do it. And suddenly he does; "Fourteen!!" exclaims John-John. His face clears, his confidence returns, and he bellows the remaining numbers triumphantly. We have seen how one little boy handles an ordinary event, not knowing or remembering something, with great strength and poise.[4]

"
Lesser's memory is slightly faulty, however. In the actual sketch, John-John proceeds blithely along until he reaches 16. After a few moments, Herry feeds the number to John-John, who proceeds to count confidently to nineteen, at which point he asks Herry what number comes next. Herry then gives John-John a moment to think, and he comes up with the answer all on his own.
Sources
↑ 1.0 1.1 1.2 1.3 Martin, Brett. "Counting kid from 'Sesame Street' is 28," Milwaukee Journal Sentinel reprint from The New York Times, March 31, 1998
↑ Sesame Street Unpaved page 152
↑ 3.0 3.1 3.2 Ramos, Cindy. "Grover San Antonian's 14 years on Sesame Street influenced his life", San Antonio Express-News. May 12, 1998.
↑ Lesser, Gerald. Children and Television: Lessons from Sesame Street. New York: Random House, 1974. p. 251.
Community content is available under
CC-BY-SA
unless otherwise noted.