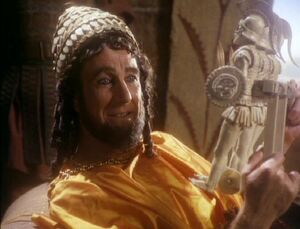 John Wood (1930-2011) was a British actor of stage and screen who played Minos in The StoryTeller: Greek Myths episode "Daedalus and Icarus."
A veteran Shakespearean, Wood first made his mark on the London stage in the 1950s and 1960s, performing with the Old Vic Company and Royal Shakespeare Company. In 1967, he appeared on Broadway as Guildenstern in Tom Stoppard's comedy Rosencrantz and Guildernstern Are Dead, netting a Tony award nomination; he would subsequently work with Stoppard many times, originating leading roles in Travesties (Henry Carr), Every Good Boy Deserves Favour (Ivanov), and The Invention of Love (A. E. Housman), as well as Stoppard's radio plays.
In film, Wood began his cinematic career in the 1950s, playing bit roles in Salome and Sea Wife (with Joan Collins). After similar parts in the likes of The Mouse on the Moon and Slaughterhouse-Five, Wood became more prominent in the 1980s, with key supporting roles or notable cameos in WarGames (as programmer Professor Falken), Ladyhawke (with Michelle Pfeiffer, as the evil Bishop of Aquila), Woody Allen's The Purple Rose of Cairo (as one of the self-aware movie actors), Chocolat, and Jumpin' Jack Flash (as the fiendish spy mastermind coping with Whoopi Goldberg). Other films include The Madness of King George, Sabrina, Shadowlands, Richard III, The Avengers, and The Little Vampire.
External links
Community content is available under
CC-BY-SA
unless otherwise noted.