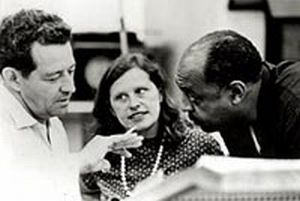 John Hubley (1914-1977) and his wife Faith Hubley (1924-2001) produced countless independent animated short films, commercials, and sponsored projects from their New York-based studio Storyboard Films, including many inserts for Sesame Street.
John Hubley began his career at Disney, serving as an art director on Fantasia (Stravinsky's "Rite of Spring" segment), Dumbo, and Bambi. He quit the studio during the 1941 strike, and moved to Columbia's Screen Gems division, where he began directing, including the "Fox and Crow" series. Screen Gems eventually became UPA, United Productions of America, for which Hubley created Mr. Magoo and directed such acclaimed shorts as the jazzy melodrama Rooty Toot Toot. Under fire from the House Un-American Activities Committee, however, in its hunt for alleged Communists in all branches of the entertainment industry, Hubley was fired in 1952. The following year, he established Storyboard as a commercial firm, allowing him to work anonymously. He married Faith Elliott, an editor and script clerk who had worked for Columbia and Republic on such films as Twelve Angry Men. Together, the couple vowed to make one personal film a year. Their collaboration led to seven Academy Award nominations, three of which were wins, on such shorts as Tender Game, The Hole and Moonbird. With an emphasis placed on music, several of these projects were collaborations with noted musicians, including Dizzy Gillespie and Herb Alpert; voices were supplied by the likes of Dudley Moore, Jack Warden, and Meryl Streep, as well as the Hubley's own children.
With the debut of Sesame Street in 1969, the Hubleys became an integral part of the show's animated landscape. Like their personal films, their inserts were distinguished by the use of jazz soundtracks, abstract and fluid imagery, and improvised dialogue. Several letter-specific segments almost function as free-form, stream of consciousness poetry. In 1971, they also began producing work for The Electric Company, notably the "Letterman" segments with the voices of Gene Wilder, Joan Rivers, and Zero Mostel. John Hubley's work was also showcased in The Jean Marsh Cartoon Special.
Daughter Emily Hubley followed in her parents' footsteps, directing several animated projects of her own, including Sesame Street material. In 2003, the Hubleys were the focus of the PBS documentary Independent Spirits: The John and Faith Hubley Story.
Partial Filmography
| Picture | Title/Topic | Earliest Known Appearance | Description |
| --- | --- | --- | --- |
| | Letter E | Episode 0001 | A dream-like fable involving long "e" sounds within words. |
| | Letter O | Episode 0011 | A rolling O travels across shifting landscapes. |
| | Exit | Episode 0131 | A polar bear learns what an exit sign is. |
| | Stop | Episode 0162 | The O in STOP bounces around, and the other letters tell it to stop. |
| | Small V | Episode 0167 | Small v ... for voom, voice, violin, etc. Music by Billy Taylor. |
| | Birds Count 1-20 | Episode 0172 | Birds appear around the numerals one through twenty as jazz music plays. |
| | F, Football | Episode 0185 | A football player talks about his favorite sport. |
| | Baby Fantasy | Episode 0198 | A baby rescues a ball from a column. |
| | Baseball Bully | Episode 0235 | A bully won't give the kids' baseball back. The boy imagines a few scenarios before ultimately calling for his dog. |
| | Fish Addition and Subtraction | Episode 0241 | A bear has trouble adding and subtracting fish as he fishes at a lake; the number of fish keeps changing. |
| | Cat and Mouse Chase | Episode 0265 | A cat chases a mouse into a mouse hole. The cat and mouse make music as they hit the wall, until the cat breaks through the mouse hole. |
| | Telephone: Cat | Episode 0265 | A cat chases after a telephone as if it were a mouse. |
| | Jungle Abstract | Episode 0269 | A black cat chases after a white bird, until a white lion steps in. |
| | Penguin Rhythms | Episode 0272 | A penguin repeats the rhythms of the sounds it hears, which include a drum, a door knock, a saw and a typewriter. |
| | Letter M | Episode 0276 | A man invites an M to dinner. The M is very appreciative, and makes "Mmmmmm" sounds. It eats all of the food at the table, and winds up taking bites of the screen! |
| | G is for Glue | Episode 0279 | A boy gets engulfed in glue, and several G-word objects get stuck on him. |
| | Catch the Kitty | Episode 0721 | A girl tries to lure her cat out from under the chair so she can pick him up. |
| | Telephone: Boy | Episode 0871 | A boy looks for the telephone as it rings. |
| | V, vitamins | Episode 1740 | Vitamins give vim, vigor and vitality to a droopy V. |
| | Letter S | Episode 0304 | A voice asks a face if it's aware of the letter S, and it is revealed that the face belongs to a snake. |
| | Night Sounds | Episode 0294 | A man tries to get to sleep, but is woken up by a fly, a chicken and a drum-playing rabbit, all of whom call him on the phone after he throws them out. |
| | Can you find the animals in the painting? | Episode 3100 | A lion, a frog, a donkey, a bird, a cat and a dog are hidden in the painting. |
| | DANGER | Episode 3185 | Various renderings of the word DANGER. |
External links