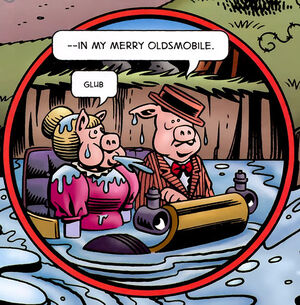 Johnnie Steele and Lucille are a pair of pigs who perform the musical number "In My Merry Oldsmobile" in "Fozzie's Story," the second issue of The Muppet Show Comic Book. The number, which echoes the British humor that marked the early seasons and UK Spots of The Muppet Show, follows the Victorian couple as they "automobubble" through the countryside, narrowly avoiding such hazards as a rocket ship crash in a cemetery, an octopus emerging from a well, a gorilla, and a raging bull. All the while, the romantic but erratic Johnnie chronicles their love affair in song; only as they veer off the road and into a water feature at the end of the number does Lucille pipe in, crying "Will you keep your hands on the steering wheel?!"
After their number, Johnnie and Lucille appear backstage (sopping wet, of course), where Johnnie informs Kermit that their act is available until July, which is when, as the less enthusiastic Lucille points out, they're driving a pair of motorcycles off of the Eiffel Tower.
Later in the show, after Fozzie's disastrous Shakespearean comedy act, the couple is again seen backstage, this time looking much more relaxed and contented (not to mention dry), lounging in a pair of terrycloth robes and sipping tropical cocktails.
Community content is available under
CC-BY-SA
unless otherwise noted.