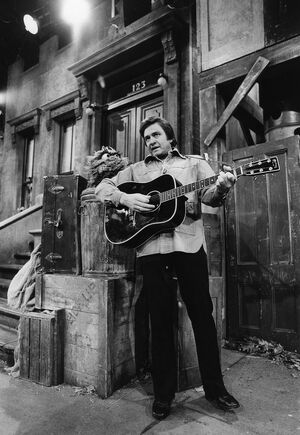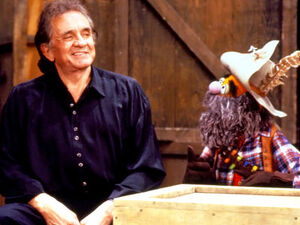 Johnny Cash (1932-2003) was one of the most celebrated and honored country singers of all time. His signature song was "I Walk the Line." His other hits included "Folsom Prison Blues," "Ring of Fire," and "A Boy Named Sue." He was a member of the country supergroup The Highwaymen in the late 1980s, with Kris Kristofferson, Willie Nelson and Waylon Jennings. Cash was inducted into the Country Music Hall of Fame in 1980, and the Rock and Roll Hall of Fame in 1992.
In 1980, Cash guest starred in The Muppet Show episode 521.
Sesame Street
Cash first appeared on Sesame Street in season 5, when he performed "Nasty Dan" and "Five Feet High and Rising." He returned in season 23 when he performed "Don't Take Your Ones to Town" and "Tall Tale."
"Don't Take Your Ones to Town" was a version of Cash's 1958 hit "Don't Take Your Guns to Town" with new lyrics (and a happy ending). "Five Feet High and Rising" dates back to 1959 and was based upon an event from Cash's childhood. Cash later recorded "Nasty Dan" for his 1975 album The Johnny Cash Children's Album. "Tall Tale" is the only song of the four that Cash did not record other than for his appearance on Sesame Street.
Kevin Clash said that for his later appearance, the entire cast and crew wore black in tribute to the singer's famous choice in wardrobe.[1] Cash's two latter-day appearances on Sesame Street were recorded in 1992, on the eve of Cash beginning a series of successful recordings with Rick Rubin's American Recordings label, which served to rejuvenate his career in the final years of his life.
Cash was also spoofed on Sesame Street in the early 90s with a Muppet singer named Ronnie Trash, who sang a Cash-inspired tune about the environment.
The Muppet Show
The performance of "Jackson" with Miss Piggy marked one of the only recorded occasions where Cash performed the song with someone other than his wife, June Carter Cash.
Sources
External links
Johnny Cash - Biographical and Career Information at Juggle.com
Community content is available under
CC-BY-SA
unless otherwise noted.